Shock absorber bearing replacement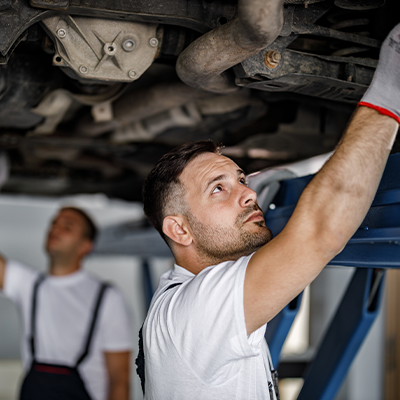 Shock absorber bearing replacement
The damper pads allow the struts to rotate together with the knuckles. The pads gradually wear making turning the steering wheel more difficult and producing disturbing sounds. In extreme cases, the damper bearings may seize and even block, causing the springs to crack while turning the wheels
Tips
Przy wymianie amortyzatorów, należy wymienić również łożyska i poduszki
Po wymianie łożyska amortyzatora należy wykonać badanie geometrii zawieszenia pojazdu
Scope of services
Odłączenie przewodów hamulcowych
Odłączenie przewodów elektrycznych od ABS
Demontaż łącznika kolumny MacPhersona od zwrotnicy
Demontaż uszkodzonych łożysk
Montaż nowych łożysk
Montaż kolumny do zwrotnicy
Podłączenie przewodów elektrycznych
Podłączenie przewodów hamulcowych
Find a car workshop
Check out our workshops that offer the service shock absorber bearing replacement in some of the biggest cities in your country
Additional info about the service
**Where is the shock absorber bearing located?
The front axle shock absorbers, constituting the MacPherson strut, are each equipped with a bearing located in their upper mounts. The bearing allows the entire strut to turn along with the steering knuckle. As the bearings wear out, wheel turning becomes harder and is accompanied by disturbing sounds. In extreme cases, a strut bearing may block altogether, causing the suspension spring to crack when turning the wheels.
How are shock absorber bearings replaced?
Usually, shock absorber bearings are replaced along with pads during the replacement of shock absorbers. Nevertheless, the useful life of particular MacPherson strut components is different and you may have to replace one element while the other ones are still fine. Replacing a shock absorber bearing requires removing the entire strut by detaching the shock absorber from the knuckle and unscrewing the upper mount of the strut from the wheel arch. Next, the strut is disassembled on a working table.
What to keep in mind?
When fitting a new bearing, a good idea is to inspect the other components, such as the piston rod, its buffer or the upper mount, and, if necessary, have them replaced. Next, the strut is reassembled and fitted back in the car. After the replacement, a good idea is to check the wheel alignment parameters to make sure that everything is OK and that your car operates in a predictable manner.