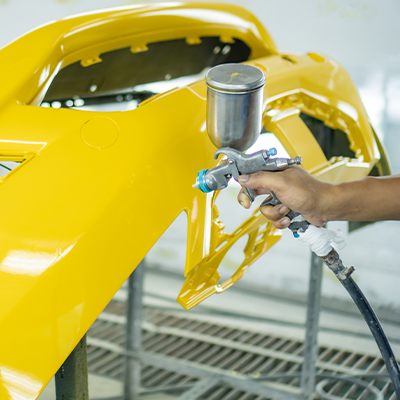 Repairing and painting the rear cross member is a complicated procedure. The rear cross member should be removed from the car before painting. Next, it should be prepared for painting by removing the old paint and degreasing the whole element. After painting the member should be polished.
Tips
Remove the old coating entirely before you paint the frame
Proper preparation of the frame for painting is one of the most important elements of the entire procedure
Make sure you choose the right paint colour and type
Scope of services
Removing the rear cross member
Removing the old paint
Cleaning and degreasing the surface to be painted
Applying a primer
Applying a basecoat in the right colour
Applying a clearcoat
Polishing the painted surface
Find a car workshop
Check out our workshops that offer the service rear panel painting in some of the biggest cities in your country
Additional info about the service
When to paint your car?
Painting a car body element is necessary during a post-accident repair or if the paint is damaged.
Smaller elements, such as the housing of the side view mirror, the door trim or the front wheel arch, must be removed from the body in order to be painted. Elements that are more difficult or impossible to remove (the roof or the rear wheel arch) have to be painted while on the car. In such case, the other parts of the body which don't need repairing, as well as the windows, must be covered with a special foil and adhesive paper tape.
What does car body painting look like?
First, the existing paint must be removed by means of sandpaper. If also damaged, the base requires polishing, too. Such free from paint, washed and degreased element is covered with a base. After the base dries out and is polished, a base paint in the desired colour is applied over it. If the paint was selected in the paint mixing plant, a good idea before painting the entire element is to paint a small portion of it to make sure that the paint perfectly matches the colour of the body.
After applying the base paint, a layer of clear coat paint is applied. Next, after it dries out completely, the surface of the painted element must be polished in order to remove any contaminants and obtain a neat look.
What to keep in mind?
There are a few paint types, each requiring a specialist knowledge about its properties and method of application. A professional panting garage has the tools and spray guns to provide high-quality painting services without any undesired effects resulting from wrong use of tools or from choosing a wrong paint.