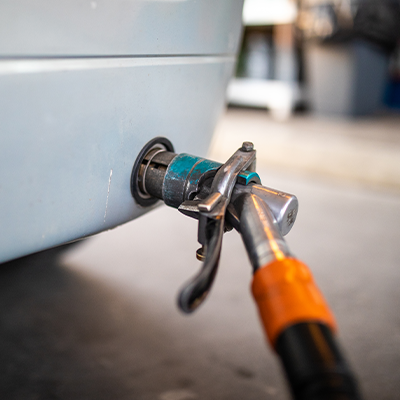 The validity period of a type approval certificate for an LPG tank is 10 years. After this period you must extend the certificate or replace the tank with a new one. After replacing the tank you must check it for leaks. When changing the tank, pay attention to the condition of the multivalve and the fuel level float. Replacing the tank is time-consuming. To make sure that a tank is fitted properly, it should be installed by a professional garage.
Tips
If damaged, an LPG tank must be replaced
The validity period of a type approval certificate for an LPG tank is 10 years. You can either extend its validity or replace the tank with a new one
Scope of services
Removing the multivalve together with the fuel level sensor assembly
Disconnecting the gas hoses
Removing the old tank
Fitting a new tank in
Fitting the multivalve in
Checking the system for leaks and filling it up with gas
Find a car workshop
Check out our workshops that offer the service lpg tank replacement in some of the biggest cities in your country
Additional info about the service
The LPG tank, referred to as a gas bottle, may be shaped like a cylinder or the spare wheel. In the latter case, it can be fitted where the spare wheel normally goes. It is then referred to as a toroidal tank.
Irrespective of its shape, the tank must be attested and undergo a pressure test after it is manufactured. If it passes the test, an attestation certificate is issued valid for 10 years from the date of manufacture. After this period the tank can no longer be used and must be replaced, as after having been filled with and emptied of the high pressure LPG gas several thousand times and exposed to changing temperatures, corrosion compromises its tightness and may cause its failure.
Apart from that, the tank must be replaced after it suffers from a mechanical damage, e.g. as a result of a collision. The tank must be emptied before it can be replaced. Next, the so-called multi-valve is removed from it along with the fuel level sensor. Subsequently, the bolts holding the tank to the trunk floor can be unscrewed and the tank itself can be removed. A new tank is fitted in the reverse order.
You should check the condition of the multi-valve and the fuel level float sensor in order to avoid having to empty the tank again to remove these elements in the event of a failure. After connecting all hoses, the LPG system should be checked for any leaks by means of a special detector or an aerosol.