Wheel steering knuckle replacement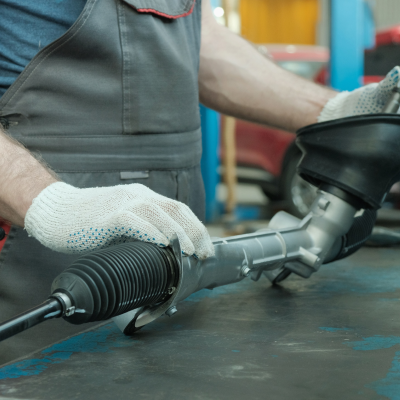 Wheel steering knuckle replacement
Knuckles are responsible for the proper positioning of the wheels. Depending on the suspension type, knuckles may be connected to the upper or lower swing arms. In the case of the front wheels, knuckles hold the track rod ends. A knuckle may be equipped with a bearing or have a hub attached to it. A knuckle should be replaced if damaged as a result of an accident or impact.
Tips
Wheel alignment is a must after replacing a knuckle
The suspension geometry has a huge impact on the stability of the car and the precision of driving
A knuckle doesn't wear and needs replacing only after an accident
Scope of services
Removing the required wheel
Removing the track rod end
Removing the brake calliper, anchor and brake disc
Removing the hub
Removing the knuckle
Fitting a new knuckle in
Refitting the suspension elements
Find a car workshop
Check out our workshops that offer the service wheel steering knuckle replacement in some of the biggest cities in your country
Additional info about the service
What is the steering knuckle?
The steering knuckle is that part of the suspension, which is responsible for holding the wheels in a stable plane of motion. Depending on the car type, the steering knuckle attaches to the lower swing arm and the MacPherson strut or the upper swing arm. In the front, the steering knuckle attaches to the steering system by means of the tie rod ends. The steering knuckle has a hub which receives the wheel bearing or the wheel hub.
How is the steering knuckle changed?
If the steering knuckle corrodes too much, is damaged as a result of an accident, the suspension hits a bump on the road, or if the wheel bearing cannot be removed, you will have to have the steering knuckle changed. If this is the case, your car has to be lifted for the wheel to be removed. Next, the tie end tip is detached from the steering knuckle, followed by the removal of the brake clamp, the anchor and the brake disc. All electrical cables must be disconnected, including the ABS sensor cable and the brake pads wear sensor cable. Then the central castellated nut is unscrew and the wheel hub removed. Next, the steering knuckle's pin is removed, which attaches it to the lower swing arm of the suspension, followed by the MacPherson strut. Finally, the steering knuckle itself is removed. Fitting the knuckle back into place is done in the reverse order.
What to keep in mind
After replacing the steering knuckle, remember to have the front wheels aligned. The steering knuckle replacement is also a good opportunity to have the wheel hub, the steering knuckle pin and the tie end tip checked.