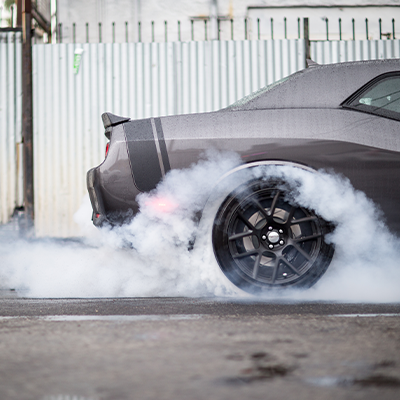 Half-shaft joints transmit drive from the half-shafts to the wheels. They are exposed to large loads and their failure disables the car. It is very important to regularly check the condition of the joint housings. Usually, the joints fail when they are penetrated by water or sand, or when they are not lubricated sufficiently. You should keep that in mind, as replacing the joints is quite costly.
Tips
Replacing a half-shaft joint is generally costly and time-consuming
In order to extend the useful life of the joints you should regularly check the condition of their rubber housings
A faulty joint may be dangerous. If completely damaged, it may block the powertrain altogether
Scope of services
Removing the wheels
Removing the half-shafts
Removing the half-shaft joints
Checking the condition of the rubber housings, adding lubricant, if necessary
Fitting new joints in
Refitting the half-shafts
Refitting the wheels
Find a car workshop
Check out our workshops that offer the service drive shaft replacement in some of the biggest cities in your country
Additional info about the service
What is a CV joint?
A CV joint is a part of the half-shaft allowing it to change its operating angle while continuing to transit the drive. This is required to ensure the upward and downward movement and the turning of the wheels relative to the immobile drive unit. Due to their function, CV joints are frequently referred to as homokinetic joints. CV joints are sensitive to corrosion and require lubrication; hence they are placed in a rubber housing filled with a lubricant.
When should a CV joint be changed?
If such rubber housing is torn or cracks, the lubricant leaks out of it and water, sand and other contaminants make their way to the joint, causing corrosion and damage to its working surfaces, as well as a play and a knocking noise during turning, and, ultimately, its collapse. If this is the case, the joint must be replaced.
How is a CV joint replaced?
In order to replace an internal CV joint you must first remove the half-shaft by removing the kingpin and sliding the spline of the external joint out of the hub. Next, the half-shaft should be slid out of the gear box. Finally, the joint is removed from the half-shaft and replaced with a new one. This is a perfect opportunity to check and, if necessary, replace the rubber housings of the other joints. A new housing should be filled with a lubricant and new mounting bands should be applied. The fixed half-shaft is fitted back into place in the reverse order.