Clutch master cylinder replacement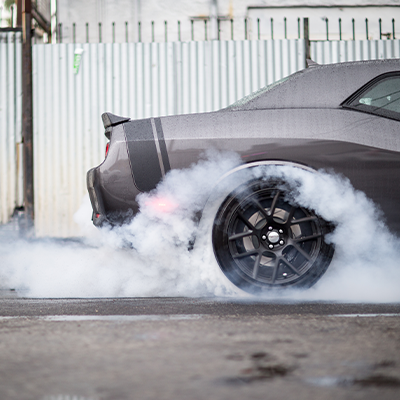 Clutch master cylinder replacement
The majority of modern cars are equipped with a hydraulic clutch control system instead of a mechanical one, where the clutch master cylinder is one of the key components. After pressing the clutch pedal, the piston moving inside the master cylinder generates pressure which pushes the slave cylinder. The master cylinder sealing elements gradually wear, causing the hydraulic fluid to leak and air-locking the system. If this is the case, the master cylinder must be replaced.
Tips
If the hydraulic fluid leaks, it means that the pump has been permanently damaged
Improper operation of the clutch pedal may be a sign that the pump is broken
Scope of services
Disconnecting the pressure hose
Removing the master cylinder from the clutch assembly
Fitting a new master cylinder in
Reconnecting the pressure hose
Bleeding the system and topping it up with the hydraulic fluid
Find a car workshop
Check out our workshops that offer the service clutch master cylinder replacement in some of the biggest cities in your country
Additional info about the service
How does the clutch work?
In modern cars, the clutch control system operated by means of a cable attached to the clutch pedal has been replaced with the hydraulic system, comprised of a master cylinder located by the clutch pedal, a pressure hose and a clutch slave cylinder located on the gear box housing, responsible for engaging and disengaging the clutch in accordance with the clutch pedal movement direction.
What is a master cylinder?
A master cylinder is comprised of a piston connected to the pedal, which, while moving inside the pump, generates pressure pushing the clutch slave cylinder. Gradually, the piston seals become worn, compromising the tightness of the system and the operation of the clutch.
When should a master cylinder be replaced?
If this is the case, the master cylinder must be replaced, which requires disconnecting the pressure hose and removing the cylinder from the clutch pedal assembly. Depending on the car type, this procedure may also require removing elements of the dashboard in order to gain free access to the pedals.
How is a new master cylinder fitted?
A new master cylinder is fitted in the place of the old one, and connected to the system by means of the pressure hose. Subsequently, the hydraulic system must be deaerated and the expansion tank refilled with the fluid to the indicated level. You should not neglect any failure of the hydraulic clutch control system as it is lubricated by means of the same fluid as the braking system, and, in extreme cases, it may be affected by an air lock, causing brake malfunction as a result of an unattended clutch system leakage.