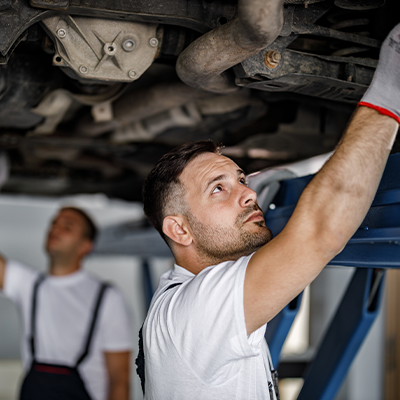 Ball joint replacement
Keeping the wheels in the right position while turning requires application of rotating joints between the swing arms and the knuckles. The wheels are connected by means of ball joints called swing arm kingpins. They gradually wear to finally get knocked out, resulting in play producing clatter in the suspension and making driving more difficult.
Tips
Always have the pins replaced in pairs
A single damaged suspension component causes the other components to fail
Multi-swing arm suspension systems should be replaced in their entirety
Scope of services
Removing the wheels
Removing the pins
Fitting new pins in
Refitting the wheels
Checking the wheel alignment
Find a car workshop
Check out our workshops that offer the service ball joint replacement in some of the biggest cities in your country
Additional info about the service
What is the swing arm pin?
In order to allow the front wheels to turn while being held in the proper position by the swing arms, a rotating joint is applied between the steering knuckle and the swing arm. This joint is provided by a swing arm pin, also referred to as the steering knuckle pin.
**What role does the swing arm pin play?
The pin is a ball joint that wears with time, causing play resulting in a clatter produced by the suspension, and a decrease in the quality of driving. In extreme cases, the pin may come out, causing the knuckle and the wheel to detach from the swing arm, resulting in an accident. This is why you should never neglect any suspension defects and have it inspected regularly.
How is the swing arm pin replaced?
Swing arm replacement requires lifting the car, removing the wheel and the nut holding the pin in the knuckle. Next, using a special pin remover, the pin is pushed out of the knuckle. Now, the only thing left to do is unscrew it from the swing arm. In some cars, the joint between the pin and the swing arm is riveted and must be drilled through to be removed. A new pin is fitted in the reverse order.
What to keep in mind?
As in some suspension types the pin sets the caster angle, the car may require wheel alignment following its replacement. It is recommended that all pins be replaced at the same time, as if one fails, the other ones will soon follow suit.