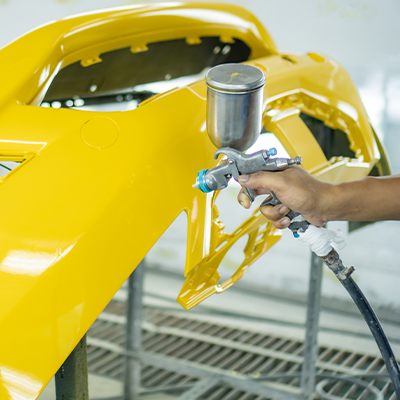 The side sills are among those car components which are most vulnerable to damage and corrosion. If possible, they should removed from the car before painting. If not, they can be painted while on the car. The sills should be prepared for painting by removing the old paint from them and securing them. Next, they should be covered with a primer and a varnish.
Tips
Remove the old coating entirely before you paint the frame
Proper preparation of the frame for painting is one of the most important elements of the entire procedure
Make sure you choose the right paint colour and type
Scope of services
Removing a sill to be painted
Removing the old paint
Cleaning and degreasing the surface to be painted
Applying a primer
Applying a basecoat in the right colour
Applying a clearcoat
Polishing the painted surface
Find a car workshop
Check out our workshops that offer the service car side sill painting in some of the biggest cities in your country
Additional info about the service
When should the sill be replaced?
Sill replacement is required when it is damaged due to corrosion or collision. In many cars, the sill is a supporting element of the body and its replacement requires following strict rules and procedures.
How is the sill removed?
A damaged sill must be cut out of the car body. This may require removing many other elements of the body and trim located in its immediate vicinity.
How is a new sill fitted?
A damaged sill is replaced with a new one. To this effect, a new sill must be attached to the body by means of welds. Closed sections must be protected against corrosion. Next, the whole element is painted.
What else to keep in mind?
When replacing a sill a good idea is to take precise body measurements to make sure that the new element fits in exactly the same place as intended by the manufacturer.